PRODUCTS
The Abuse Prevention Monitor
$60.00
A collection of monthly newsletters, The Roger MacNamara anthology is dedicated to the proposition that children and vulnerable adults have the right to live abuse free lives. Each newsletter addresses a particular aspect of abuse prevention. The information continues to be as pertinent and relevant as the day it was written and the anthology is easily disassembled so issues may be used individually for training.



Not Knowingly Do Harm
$29.00
Instilling Responsible Caregiving Values In Direct Care Staff & Supervisors Through Performance Appraisals
$30.00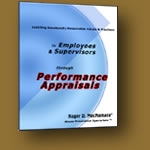 You either know your employees or wait for a tragedy. You either influence them or watch them be influenced by negative undercurrents or adopted practices. There is no substitute for employee appraisal.






Management Foundations for Emotionally Responsible Caregiving
$10.00
The Foremost Solution to the Abuse Problem: The Will to Manage
$45.00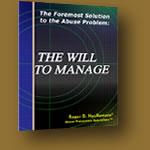 There are reasons for the persistence of abuse. The usual practices are to speak and write around them. This monograph places these omissions and commissions into the light of day. Required reading for managers and supervisors.






Examining Potentially Contaminated Caregiving Environments
$35.00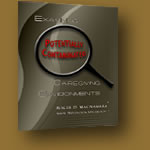 The human service agency owes its right to exist by the attention and effort it devotes to the actual giving of care, continuously defining what is acceptable and what is not. Abuse is not acceptable and is preventable by an organization devoted to emotionally responsible caregiving.





A Caregiver's Handbook: Halting the Angry Reaction
$50.00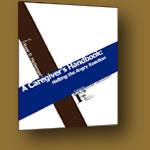 This handbook offers illustrations from the caregiving scene and at home and in public. This handbook asks employees to question themselves, their choice of employment. This handbook teaches them forms of anger and angry responses. It then asks them to evaluate their own patterns. This handbook brings anger and reality together in a self-help and coaching format. This handbook is designed for occupational and personal development and not for a "be good or be gone" single session. This handbook will challenge your organization to adequately and continuously prepare direct care staff for the daily occupational pressure.
Books authored by Roger D. MacNamara, Founder of Abuse Prevention Specialists:
Freedom From Abuse in Organized Care Settings for the Elderly and Handicapped
Creating Abuse-Free Caregiving Environments for Children, The Disabled and the Elderly
Please Visit:
Find out how such Roger MacNamara® concepts as Emotionally Responsible Caregiving, Diagnostic Supervision, and Service Delivery Management lead to "Zest for Living" and "Inner Peace". 
Hiring and Training
Diagnostic Supervision
The Caregiving Personality
Service Delivery Management
Zest for Living - An Abuse Free Life
Courageous Caregiver
A message from the producer of the Roger MacNamara® video series
Here's Mt. Vernon News' review of the video series (Coming Soon)